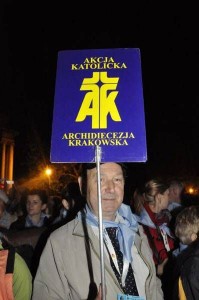 Do Rzymu pojechałem specjalnym pociągiem o nazwie "Jan Paweł II", który wyruszył z Krakowa. Wziąłem ze sobą specjalnie przygotowaną tablicę o wymiarze A3, zamocowaną na aluminiowym pręcie. Cała tablica jest zafoliowana, z logo Akcji Katolickiej na awersie i popularnym w naszej archidiecezji obrazem Jana Bruzdy z napisem GAUDE MATER POLONIA na rewersie. Tablica wzbudziła zainteresowanie na ulicach Rzymu i na Placu św. Piotra. Jakimś paniom – chyba z Filipin – na Via della Conciliazione musiałem specjalnie pozować do zdjęcia – spodobał im się zwłaszcza obraz na rewersie. Kolega jadący autokarem wziął duży transparent Akcji Katolickiej krakowskiej, aby go rozwinąć w czasie kanonizacji w Rzymie.
Do Rzymu przybyliśmy pociągiem na stację San Pietro jakieś pół  godziny po północy – czyli około dziewięć i  pół godzin przed Mszą św. kanonizacyjną. Cały ten czas spędziliśmy w coraz bardziej gęstniejącym tłumie zmierzając powoli z długimi postojami na Plac św. Piotra. Gdy wyszliśmy ze stacji na pobliską ulicę, zobaczyliśmy w niedalekiej odległości kopułę bazyliki św. Piotra, a nad nią, dość dziwny obraz o tej porze nocy – białe ptaki, chyba mewy, krążące nad gmachem. Byłem szczęściarzem, bo na samym początku – niemal o północy – podszedł do mnie kolega z Zarządu DIAK – Adam Stawiarski, z żoną, a to dzięki tablicy, którą trzymałem. Oni przylecieli do Rzymu samolotem. Potem staliśmy długo na ulicy między stacją San Pietro, a ulicą prowadzącą prosto na Plac św. Piotra.  Po około półtorej godziny znaleźliśmy się, w bardzo gęstym tłumie, mniej więcej w połowie Via della Conciliazione. Staliśmy i częściowo siedzieliśmy aż do godziny około  530, kiedy zaczęto w grupach wpuszczać na teren placu. Znalazłem się w ostatniej grupie, która została tam wpuszczona. Za nami postawiono odgradzające barierki. Czekała nas następna duża kolejka do przejścia przez bramki bezpieczeństwa, przez które należało przechodzić pojedynczo, a to bardzo utrudniało przejście.
Do swojego sektora dotarłem wreszcie jakieś 20 minut przed rozpoczęciem Mszy św.  Cieszyłem się, że udało mi się wejść na plac z tablicą, na której było logo Akcji Katolickiej, co nie było takie oczywiste, bo kontrolerzy odbierali drzewce polskich sztandarów jako niebezpiecznych, więc mogli też zabrać moją tablicę ze względu na aluminiowy pręt, na którym była zamocowana… Niektórzy mówili, że Włosi w ten sposób ograniczali ilość flag polskich na Placu św. Piotra, bo przecież było ich sporo na placu z drzewcami – w jakiś sposób udało im się tam wejść… Według mojej obserwacji, tylko trzymane przeze mnie logo Akcji Katolickiej było jedynym znakiem na Placu św. Piotra naszego stowarzyszenia podczas kanonizacji wielkich Papieży. Niestety, nie widziałem naszego transparentu, ani na placu, ani na ulicy Via Conciliacione, dobrze widoczną z mojego miejsca. Pewnie koledze nie udało się dotrzeć aż tak blisko.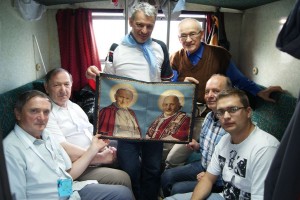 Po chwili rozpoczęła się oczekiwana, będąca głównym celem naszej pielgrzymki Msza św. kanonizacyjna. Niektórzy mówili, że na tę Mszę św. przybyło czterech papieży: dwóch żyjących: Franciszek i emerytowany Benedykt XVI oraz dwóch kanonizowanych: Jan Paweł II i Jan XXIII.  Uczestnicy nagrodzili rzęsistymi brawami wejście papieża emeryta Benedykta XVI, następnie wejście papieża Franciszka, a po akcie kanonizacji rzęsiście oklaskano Świętych Papieży. Nie opisuję szczegółowo całej uroczystości, bo wszyscy, którzy chcieli i mogli, oglądali tę uroczystość dzięki transmisjom telewizyjnym, radiowym i internetowym.
Nie mogę pominąć pewnego niezwykłego zbiegu okoliczności.  W pewnym momencie po Mszy św. zauważyłem, że dzwonił do mnie prezes Akcji Katolickiej kieleckiej Józef Snochowski. Okazało się, że usiłował mnie poinformować o nagłej śmierci naszego wspólnego znajomego proboszcza ks. prał. Stanisława Sztafrowskiego. Piszę o tym, bo okoliczność jego śmierci okazała się niezwykła ze względu na bardzo szczególne okoliczności… Otóż ks. Stanisław zanim został budowniczym i proboszczem kościoła w Kielcach na nowym osiedlu, który z czasem stał się głównym Sanktuarium Bożego Miłosierdzia w diecezji kieleckiej, był budowniczym, proboszczem kościoła w Przesławicach – mojej rodzinnej wiosce, a Józef Snochowski mieszka obecnie właśnie w parafii Bożego Miłosierdzia w Kielcach. W Przesławicach w latach 70-tych śp. Ks. Stanisław wybudował kościół pod wezwaniem MB Matki Kościoła, drewniany i przeniesiony z pobliskiej Gołczy w ramach ratowania zabytków – inaczej byłoby bardzo trudno, bo wtedy nie dawano pozwoleń na budowę kościołów. Wybudował plebanię, założył cmentarz, a na nim kaplicę. Tak powstała nowa parafia z części wielkiej parafii miechowskiej. A w Kielcach od roku 1981, w trudnych czasach stanu wojennego rozpoczął budowę kościoła, nie bez przeszkód stawianych przez złośliwych komunistów, który stał się głównym sanktuarium diecezji.
Niezwykłość wydarzenia polega na tym, że ks. prał. Stanisław Sztafrowski zasłabł zaraz na początku dziękczynnej Mszy św. koncelebrowanej pod przewodnictwem ks. bpa ordynariusza Kazimierza Ryczana, z udziałem licznego grona koncelebrujących księży, wśród których był obecny. Mimo zastosowanej reanimacji zmarł w samo święto Bożego Miłosierdzia, w czasie Mszy św. dziękczynnej za kanonizację Świętych Papieży – szczególnie za papieża Rodaka.
W uroczystościach pogrzebowych brali udział wszyscy biskupi kieleccy i bardzo liczni kapłani. Ks. bp Kazimierz Ryczan w swojej pięknej homilii nie tylko zarysował sylwetkę Zmarłego poczynając od jego rodziny i wymieniając jego ciąg zasług, ale barwnie przedstawił całe tło historyczne towarzyszące jego życiu i działalności.  A  pogrzeb odbył się 1-go maja – dokładnie w trzecią rocznicę beatyfikacji Jana Pawła II.
Tak, w wielkim skrócie wyglądał, subiektywny mój obraz pielgrzymki i kanonizacji dwóch wielkich papieży: Jana XXIII – inicjatora i głównego organizatora Soboru Watykańskiego II i Jana Pawła II – realizatora uchwał soborowych i jak powiedział papież Franciszek: głównego patrona rodzin.
Jan Wilk, prezes DIAK
zobacz prezentację i zaproszenie
na wystawę obrazów poświęconych Janowi Pawłowi II i Janowi XXIII